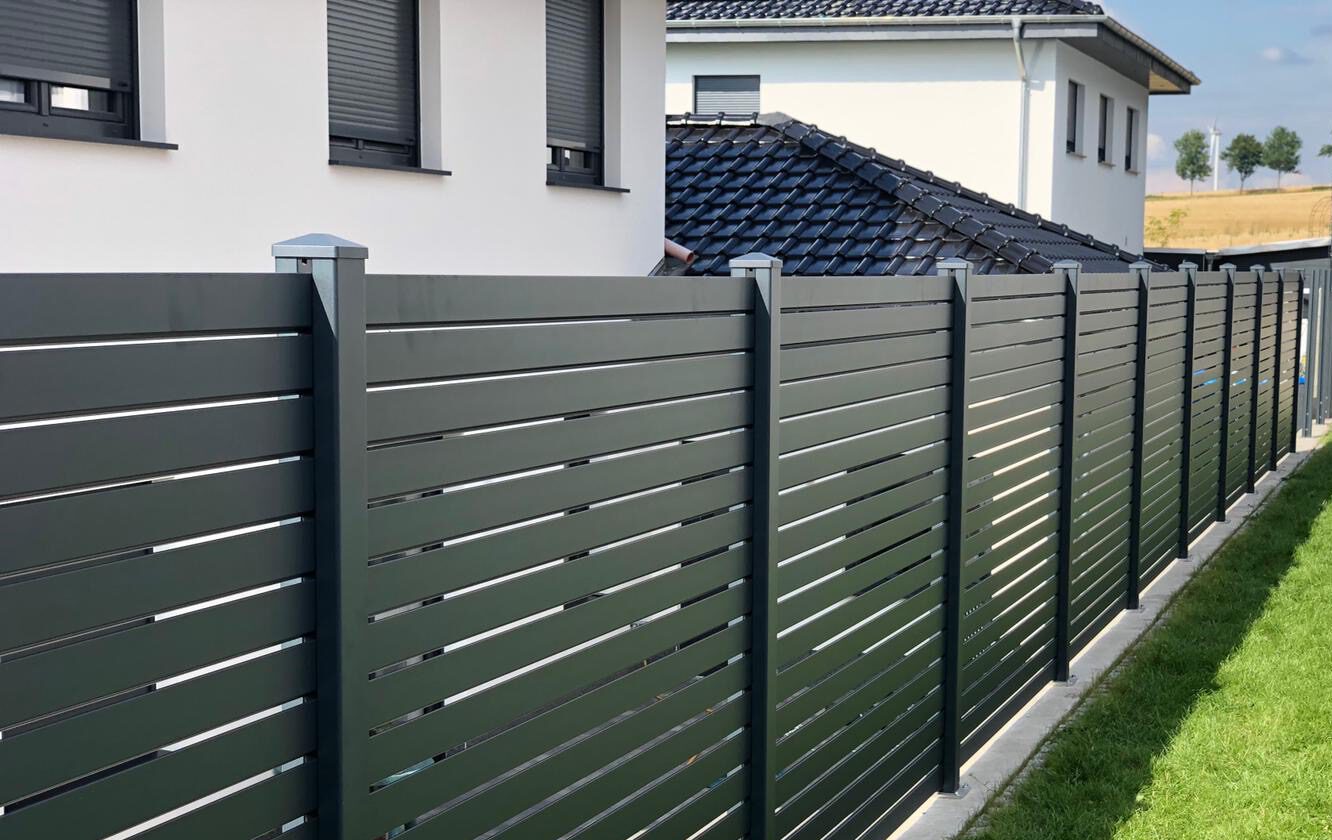 Your aluminum rhombus fence –
light and durable with a modern look.
Aluminum fences in rhombus design:
Realize a durable garden fence with style.
More and more garden and house owners rely on a rhombus garden fence made of high-quality aluminum. The reasons are obvious. The aluminum look in the color of your choice fits perfectly into the concept of a contemporary property design. In addition, aluminum rhombus strips are particularly durable and dimensionally stable. This means that wind, rain and a wide range of temperature influences allow the material to "bounce off", also thanks to a special powder coating. Thanks to this incomparable weather and UV resistance, you save yourself the time-consuming painting of your rhombus fence completely.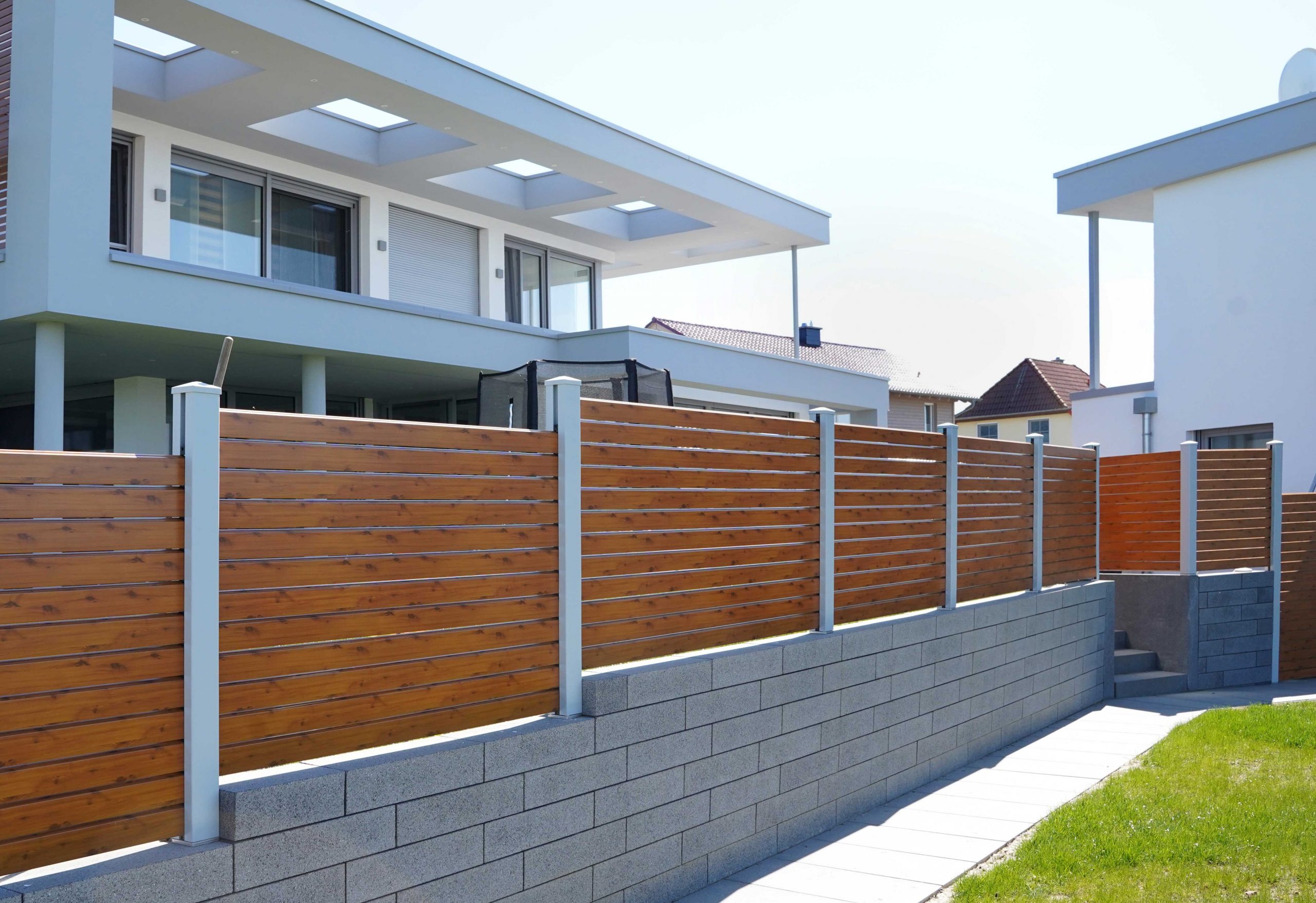 What is a rhombus fence?
The so-called rhombus strips are characteristic of a rhombus fence. "Rhombus" (also "rhombus") means that the aluminum filling profiles have a parallelogram cross-section, ie a slight incline. An advantage: Due to the "slanted" sides, a unique play of light and shadow is created, which gives your aluminum privacy fence a special visual facet
The emphasis on horizontal lines is very typical of a rhombus fence. The aluminum filling profiles are mounted in such a way that there are narrow gaps between them, which give the fence an additional lightness and make it "airier". Speaking of design: For your rhombus fence, choose between a wide variety of decor and color variants, from the wood look to a special RAL color according to your personal preferences. In addition to your fence, you can of course also continue the modern rhombus style on your garden gate or balcony in order to obtain a uniform overall picture. We would be happy to advise you.
Why an aluminum rhombus fence?
The weather-resistant rhombus strips made of the highest quality aluminium emphasise the modern design of gardens and also offer an elegant privacy screen for atria. In addition to the premium look, aluminum does not require special care or constant painting. And thanks to the clever VALU system technology, your privacy fence can be set up in no time to last for generations. With a VALU rhombus privacy screen made of powder-coated aluminium, you benefit from a significantly longer durability than, for example, with wood or UV-sensitive plastic.
Thanks to the VALU system technology, you also have the option of combining other materials with aluminum filling elements in rhombus design. Find out more on our "Combinations" page.
By the way: Our fence planner makes planning your aluminum fences particularly easy for you - regardless of whether it is a classic closed privacy screen or a rhombus or slatted privacy screen in the color of your choice. Also available in a deceptively real-looking wood decor. In addition to your privacy fence, you can of course continue the modern rhombus style with your aluminum garden fence, garden gate or balcony to create a harmonious overall picture around your garden. We would be happy to advise you.
Do you have any questions about the VALU rhombus fence – or would you like individual advice? We are happy to help.
Simply call +49 (0) 6453 21199-50 – or write to us: info@valu.de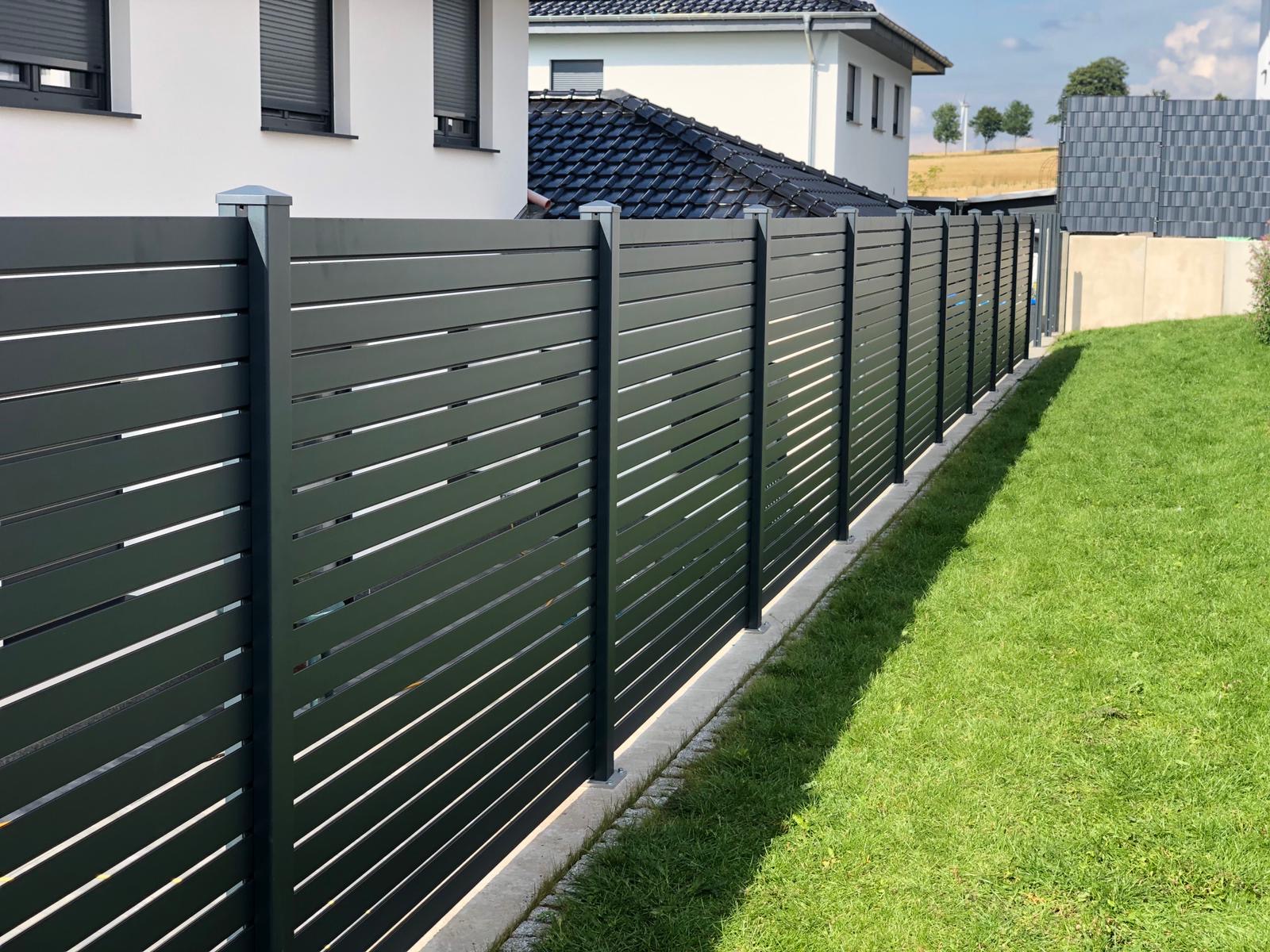 Simplest installation with VALU. The symmetrical aluminium filling profiles in rhombus shape ensure a particularly elegant fence. What color would you like?