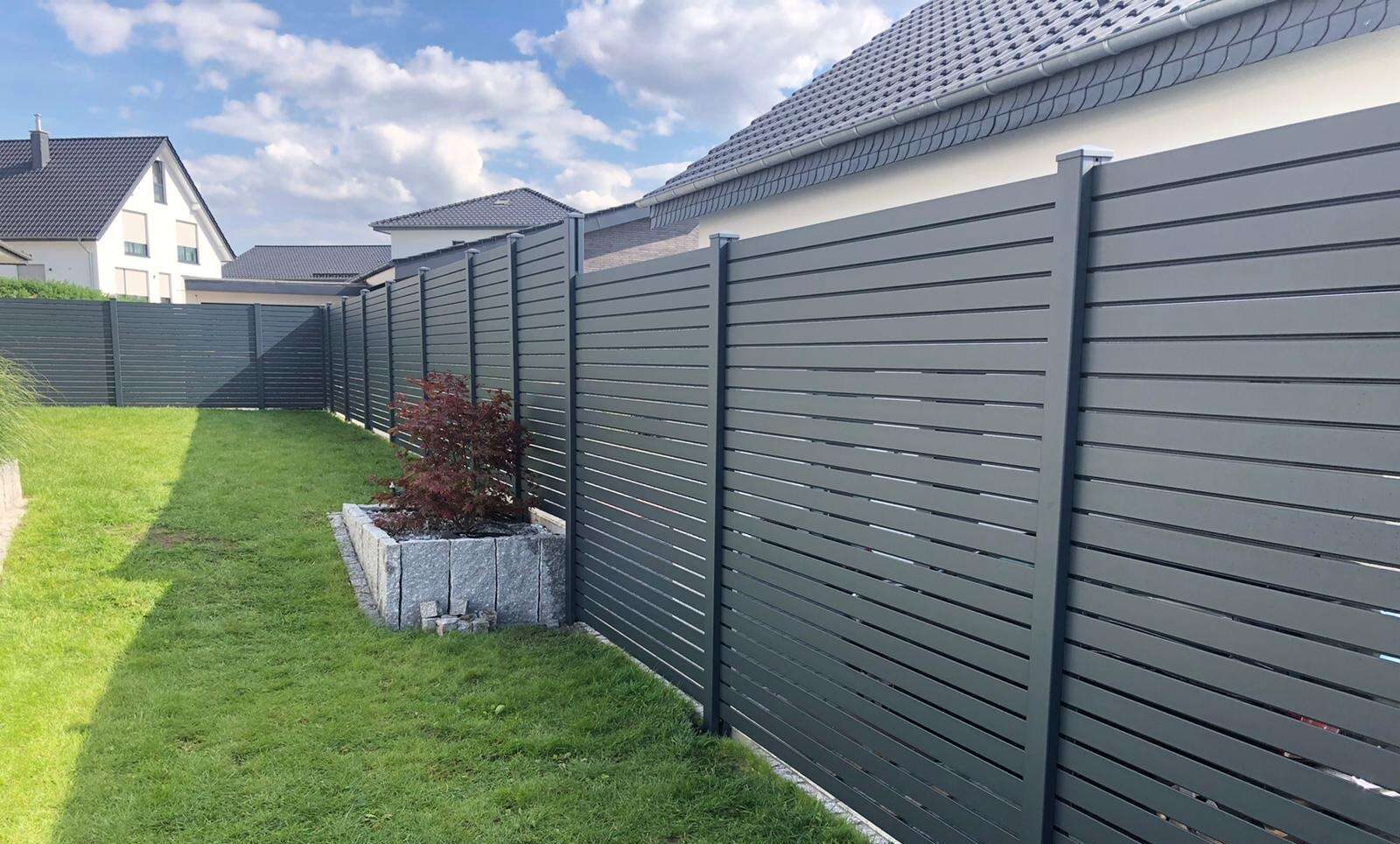 Rhombus style privacy screen
modern look meets long-lasting quality
Easy to assemble, simply ingenious:
Your rhombus privacy screen made of high-quality aluminium.
An aluminum privacy fence with elegant rhombus profiles sets optical standards in your home garden - and certainly also in the whole neighborhood.

The linear and modern design - made of the trendy material aluminum - combines a functional privacy screen with a look that is appealing on both sides.
But a rhombus privacy screen is not only visually convincing. In combination with the easy-care and corrosion-resistant aluminium

it becomes the most durable privacy fence for your home garden. Thanks to its extreme weather and UV resistance, you save yourself

regular painting or varnishing, which requires, for example, a wooden privacy screen. Added to this is the convenient configuration via online privacy planner,

as well as quick installation - even without in-depth specialist knowledge of the construction of privacy screens.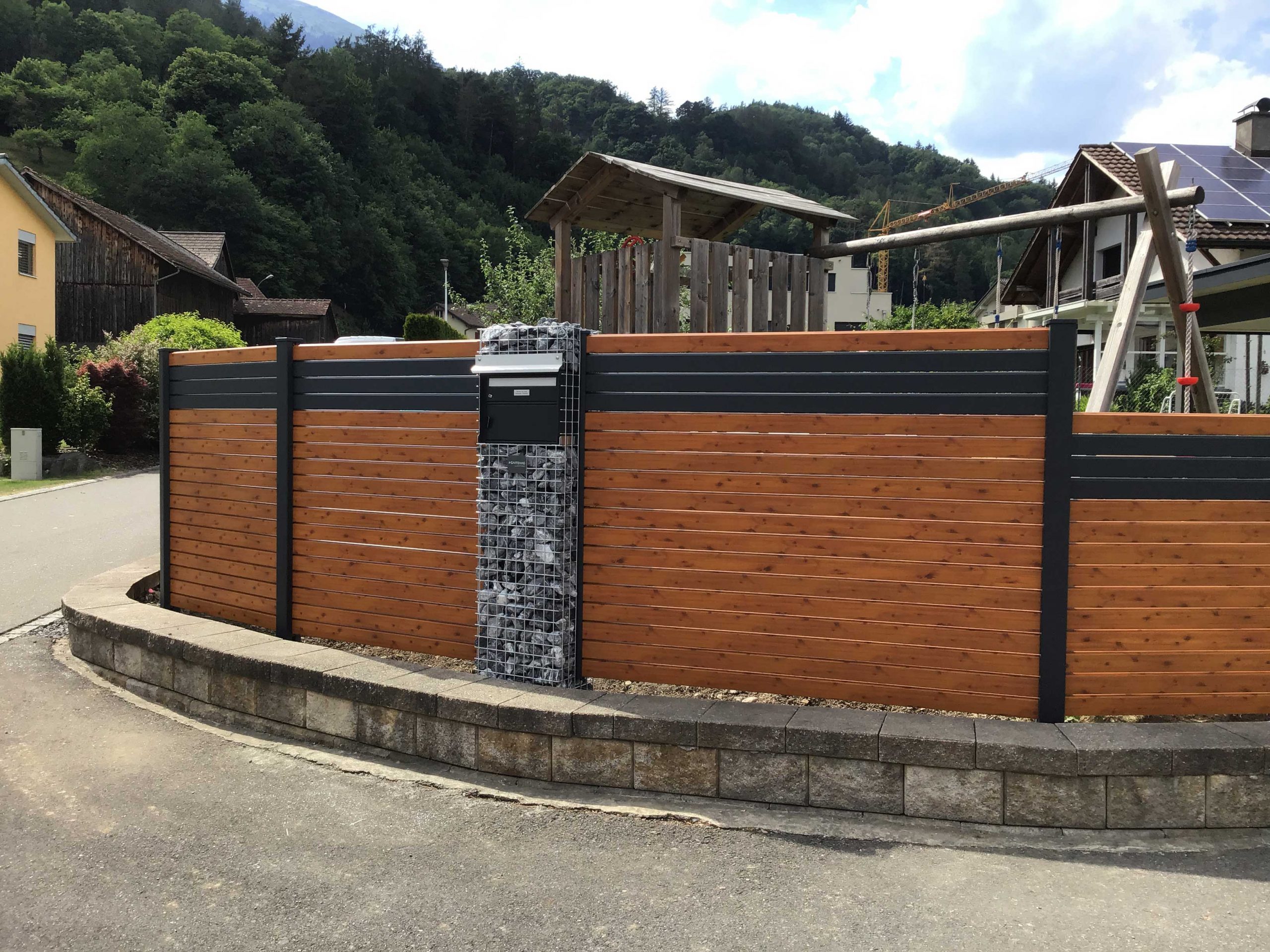 What is a rhombus privacy fence?
A good rhombus privacy screen offers privacy and security - while being aesthetically pleasing. Its special aesthetics comes from the use of the so-called rhombus strips. "Rhombus" (also "rhombus") means that the aluminum filling profiles have a parallelogram cross-section, ie a slight incline.
An advantage: Due to the "slanted" sides, a unique play of light and shadow is created, which gives your aluminum privacy fence a special visual facet.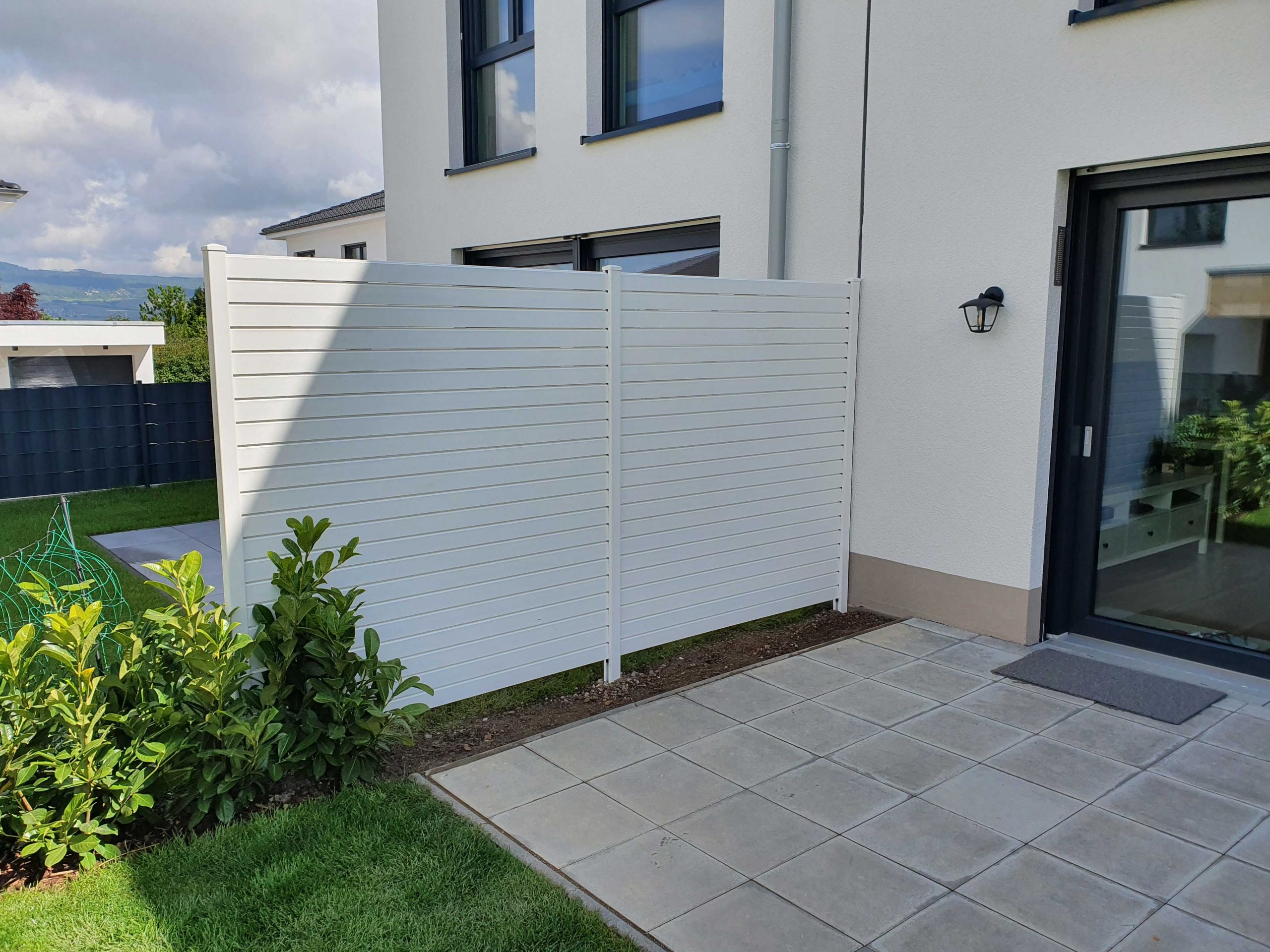 A wood classic in a durable aluminum version
Compared to a high-maintenance rhombus privacy screen made of wood, our rhombus profiles made of aluminium are powder-coated in colour and have a higher stability and durability. Also, a VALU aluminum privacy fence cannot warp compared to profiles made of wood.
Depending on how it is installed, our privacy screen solution allows a slight one-sided view, but still offers sufficient privacy from the other side. An aluminum privacy screen is also convincing in terms of flexibility. You vary the height by the number of rhombus profiles, the width by your individual information in our online privacy planner.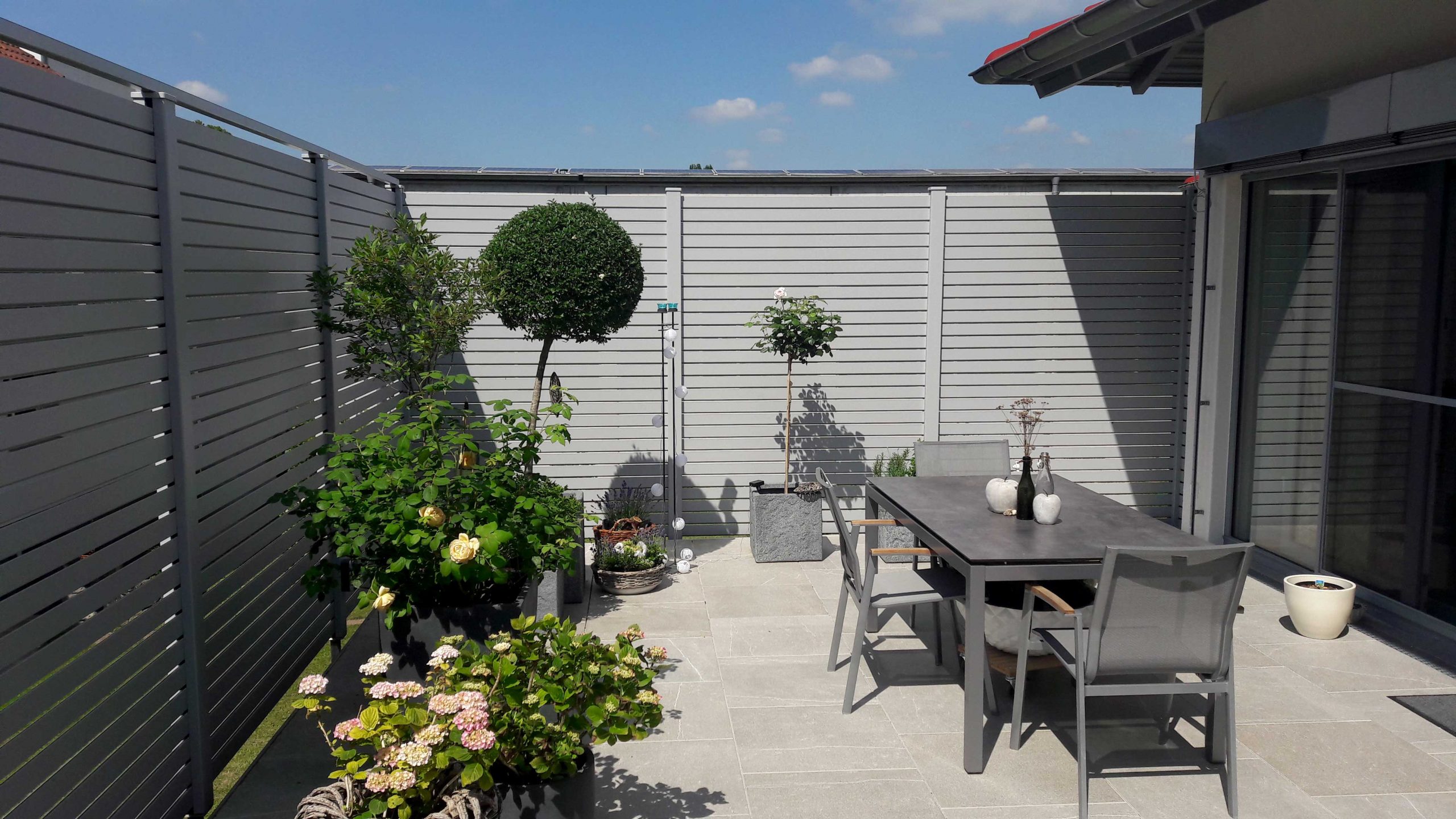 Why a rhombus aluminum privacy screen?
To put it simply: A rhombus privacy screen made of aluminium impresses on all levels, i.e. in terms of modern appearance, durability, comfort and ease of installation. The weather-resistant rhombus strips made of the highest quality aluminium emphasise the modern design of gardens and also offer an elegant privacy screen for atria. In addition to the premium look, aluminum does not require special care or constant painting. And thanks to the clever VALU system technology, your privacy fence can be set up in no time to last for generations. With a VALU rhombus privacy screen in aluminium quality, you benefit from a significantly longer durability than, for example, with wood or UV-sensitive plastic.
Nevertheless, thanks to the VALU system technology, you have the option of combining other materials with aluminum filling elements in rhombus design. Find out more on our "Combinations" page.
By the way: Our fence planner makes planning your aluminum fences particularly easy for you - regardless of whether it is a classic closed privacy screen or a rhombus or slatted privacy screen in the color of your choice. By the way, also in the deceptively real-looking wood decor. In addition to your privacy fence, you can of course continue the modern rhombus style with your aluminum garden fence, garden gate or balcony to create a harmonious overall picture around your garden. We would be happy to advise you.
Simply call +49 (0) 6453 21199-50 – or write to us: info@valu.de
Do you have any questions about VALU privacy screens with rhombus profiles – or would you like individual advice? We are happy to help.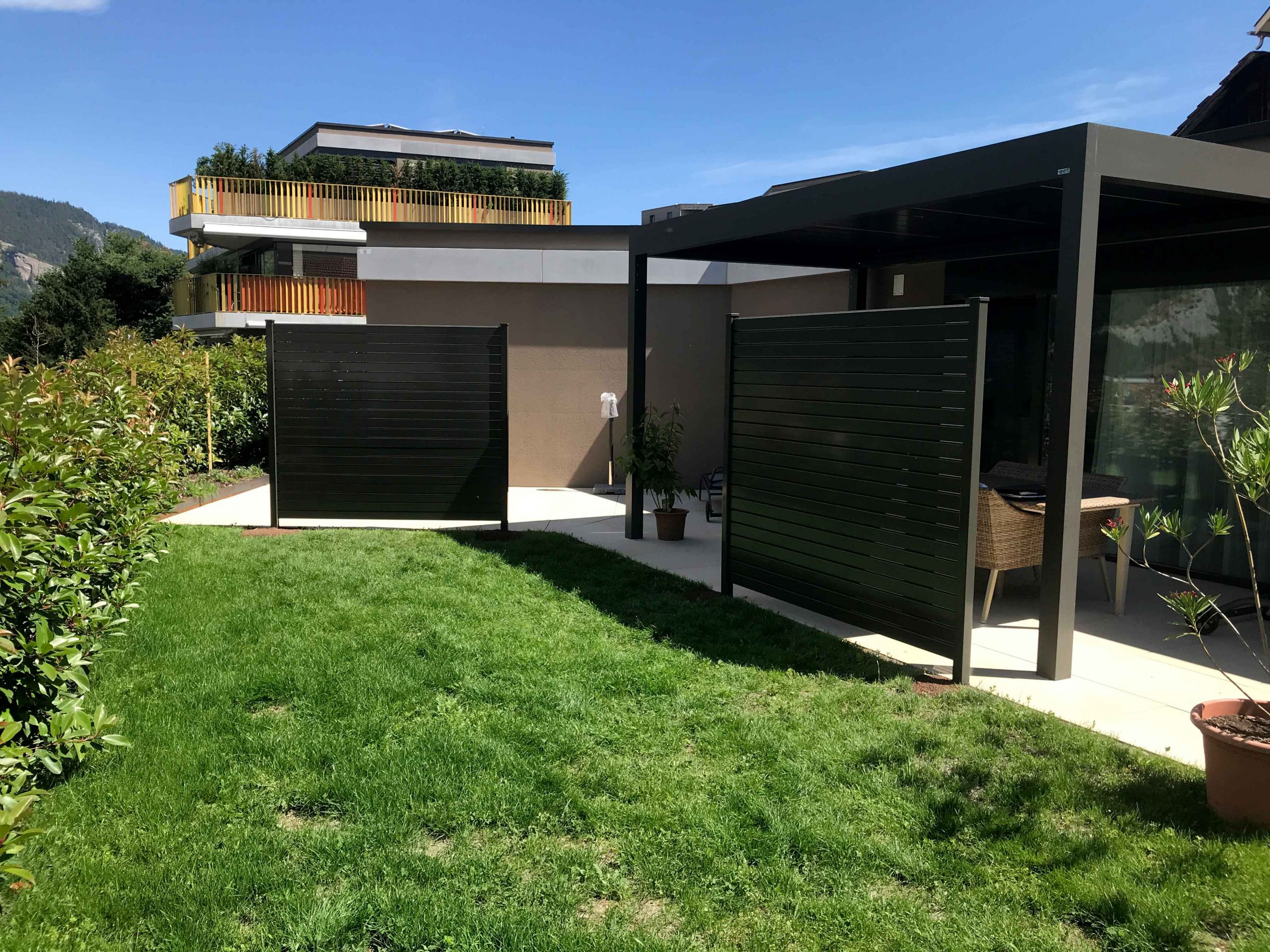 Quickly assembled for long-term enjoyment: Rhombus-shaped aluminum filling profiles make your privacy fence an eye-catcher. Which color do you want? to the VALU Designer