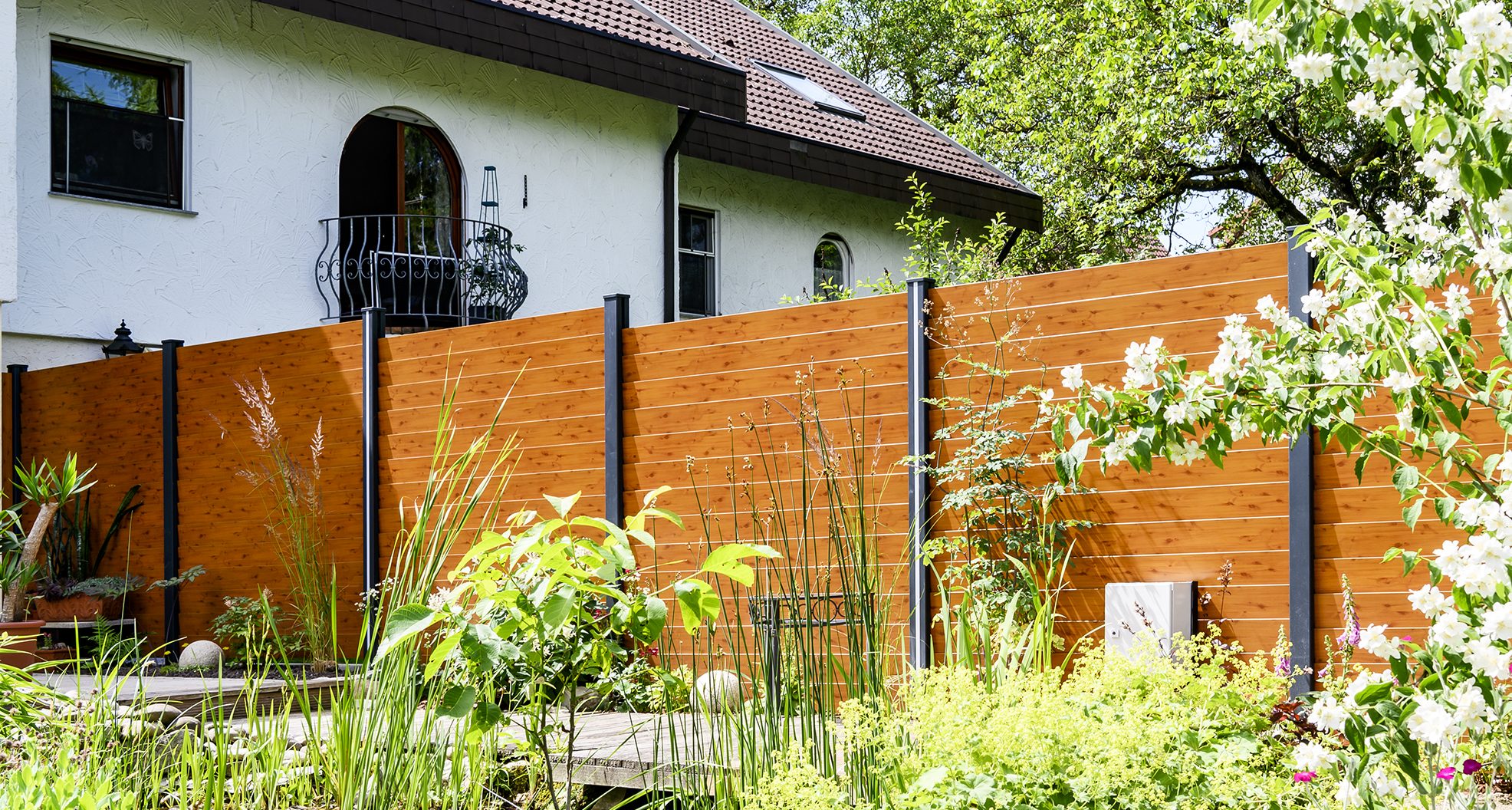 Decorative and a tasteful eye-catcher
Your privacy fence in a modern lamella look.
Aluminum slat privacy screen:
Pleasure in quality and longevity
An aluminium slat privacy screen is ideal for gardens, terraces and properties. We manufacture a high-quality louvre fence for you in your desired colour or wood décor, which not only expresses style and elegance, but is also easy to clean, weather-resistant and durable. Once erected – and this works quickly and easily with the VALU system technology – aluminium fences from VALU fulfil their task for decades. For example, a powder coating of the aluminium posts and aluminium slats provides permanent protection that keeps both moisture and dirt away from the material. Regardless of whether you want to make it difficult or impossible to see your terrace or balcony: An aluminium slat privacy screen also sets visual standards.
You can quickly and conveniently configure your privacy screen individually and order it from VALU with all the necessary accessories and installation instructions.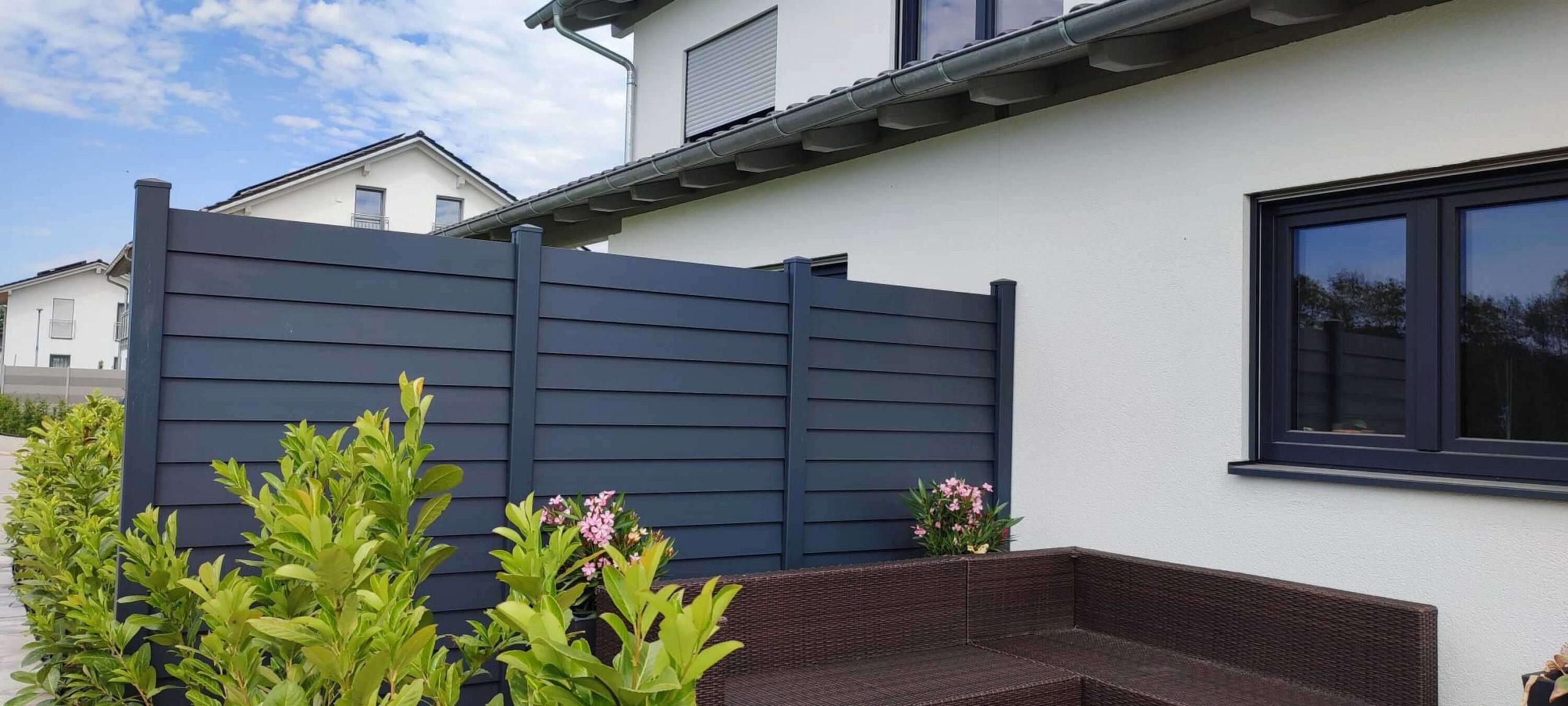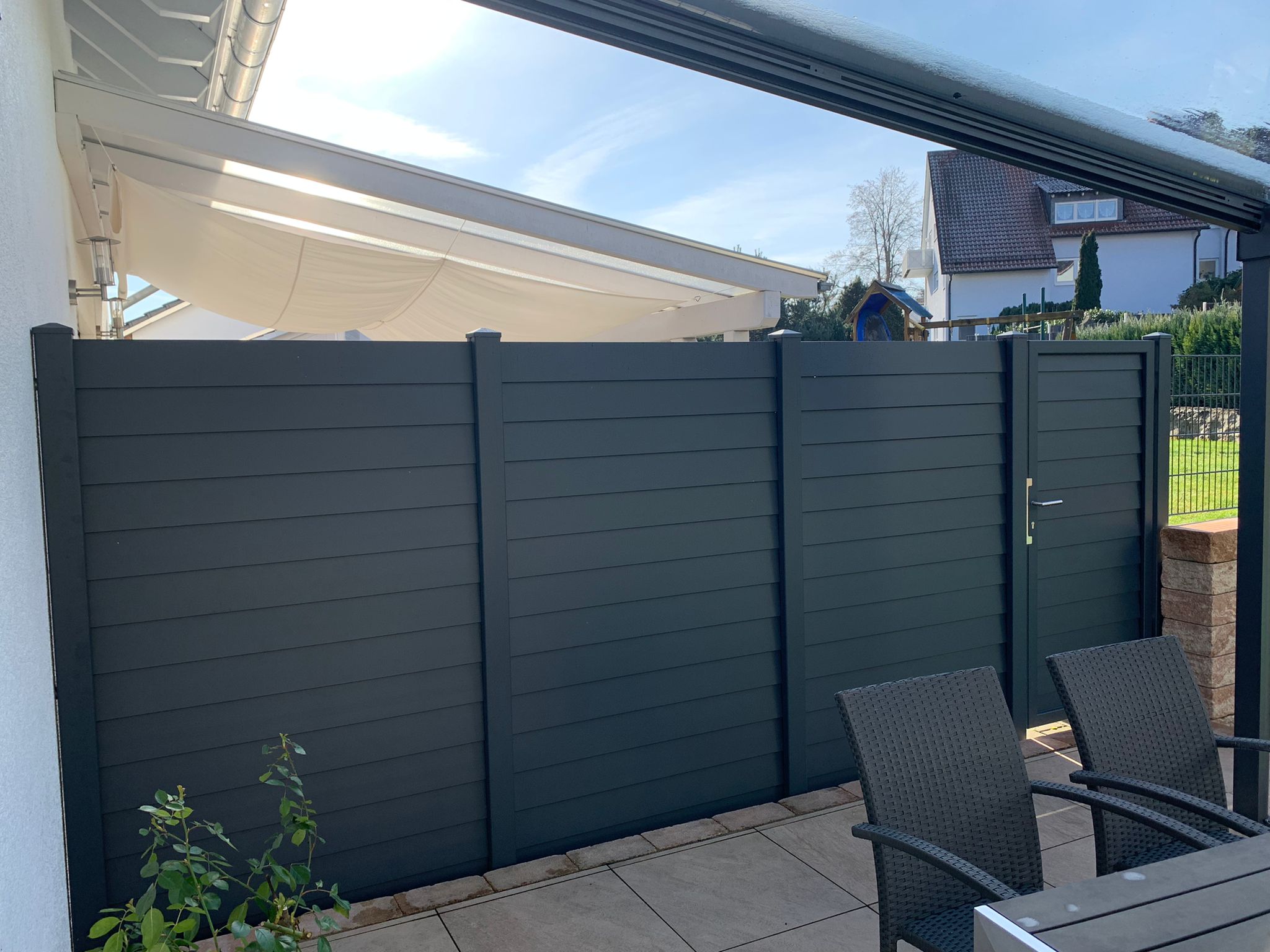 Why a slat privacy screen made of aluminium?
Who would want to spend days building a complicated fence? Who wants to constantly have to protect their privacy screen from the weather with a coat of paint?
And who wants to watch their plastic fence fade over the years? We don't want that – and that's why we've created the clever VALU privacy protection system: With aluminium, you benefit from a longer durability of your slat privacy fence than with other common materials such as wood or bamboo, which require special care.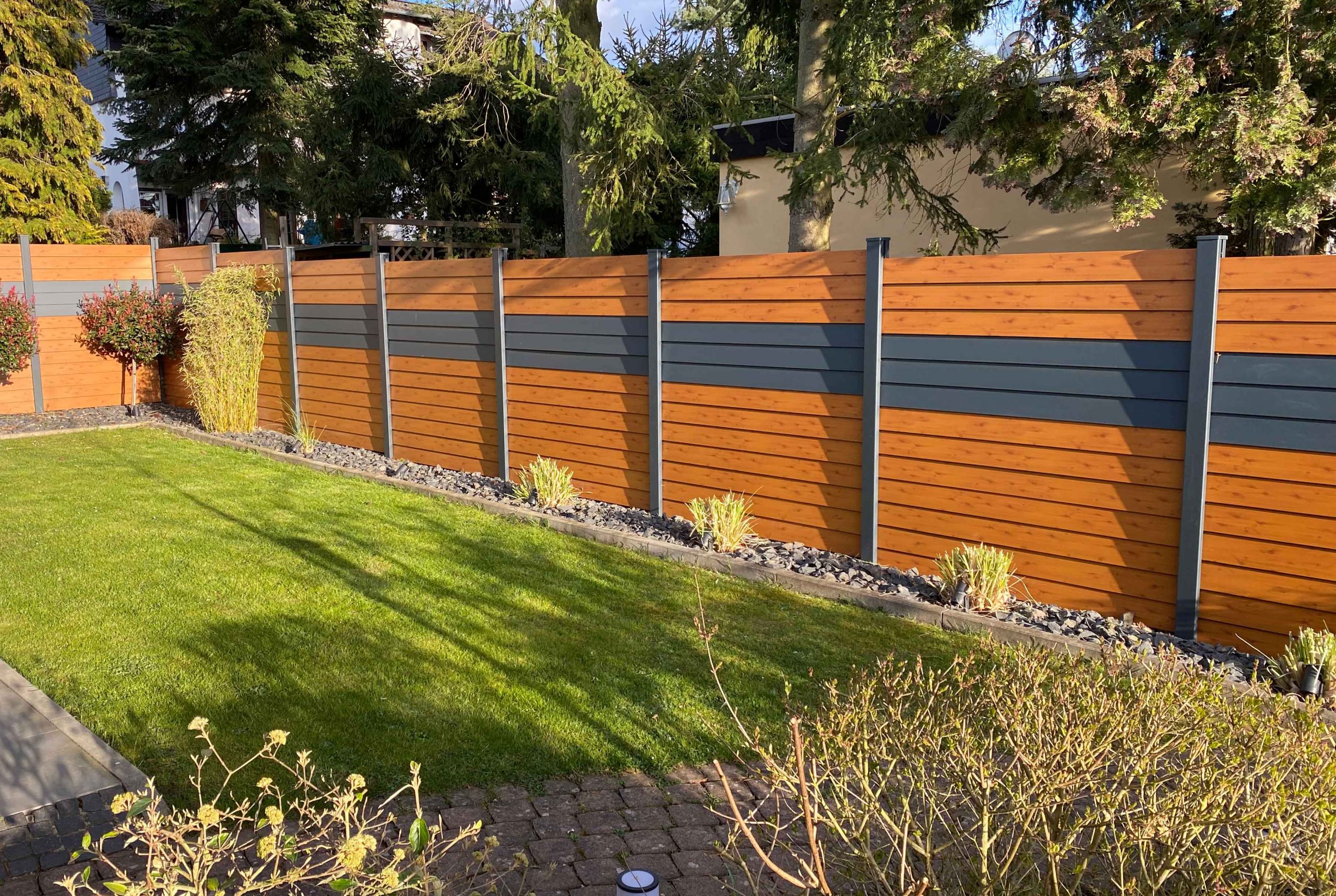 Flexible planning meets easy assembly
Thanks to our VALU "modular system", you can combine a wide variety of materials with our aluminium fence posts and aluminium slat fences, even at a later date. A great option if you want to add a new visual sophistication years after the initial assembly. For example, a garden privacy screen that alternately takes into account real wood and aluminum fence elements offers an exciting visual contrast. We would be happy to advise you on this – also in questions of planning and installation.
However, we rarely receive inquiries about assembly, because VALU assembly instructions usually leave no questions unanswered. Our aluminium slat privacy screen is particularly easy to set up, even by DIY craftsmen without professional tools. This also means that, thanks to the innovative system technology, you can compensate for slight height offsets or ground tolerances without additional effort. This way, your louvre fence will be up and running within a very short time. No endless balancing, no screw marathon.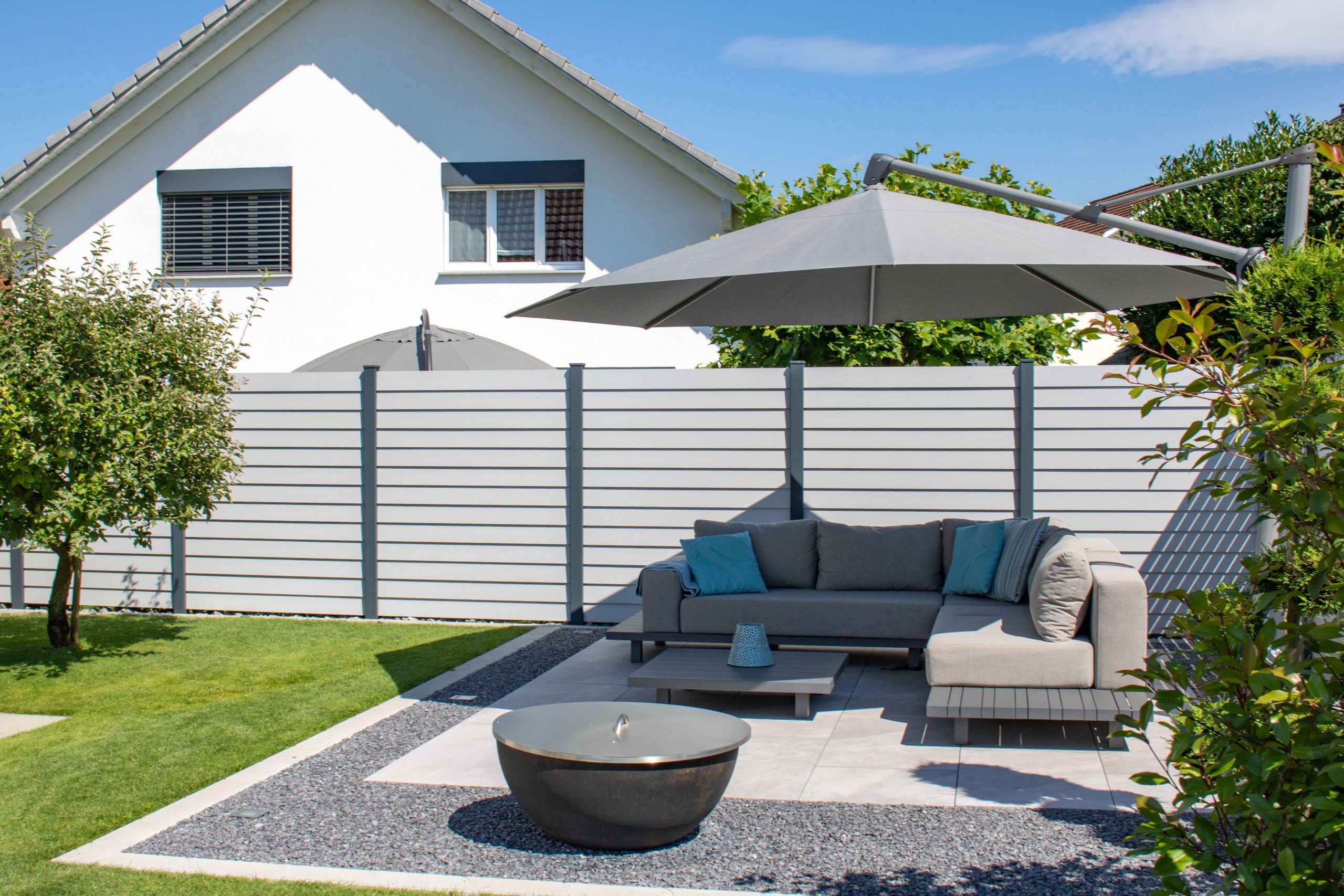 Simply call +49 (0) 6453 21199-50 – or write to us: info@valu.de
Do you have any questions about the VALU slatted privacy screen made of aluminium – or would you like individual advice? We are happy to help.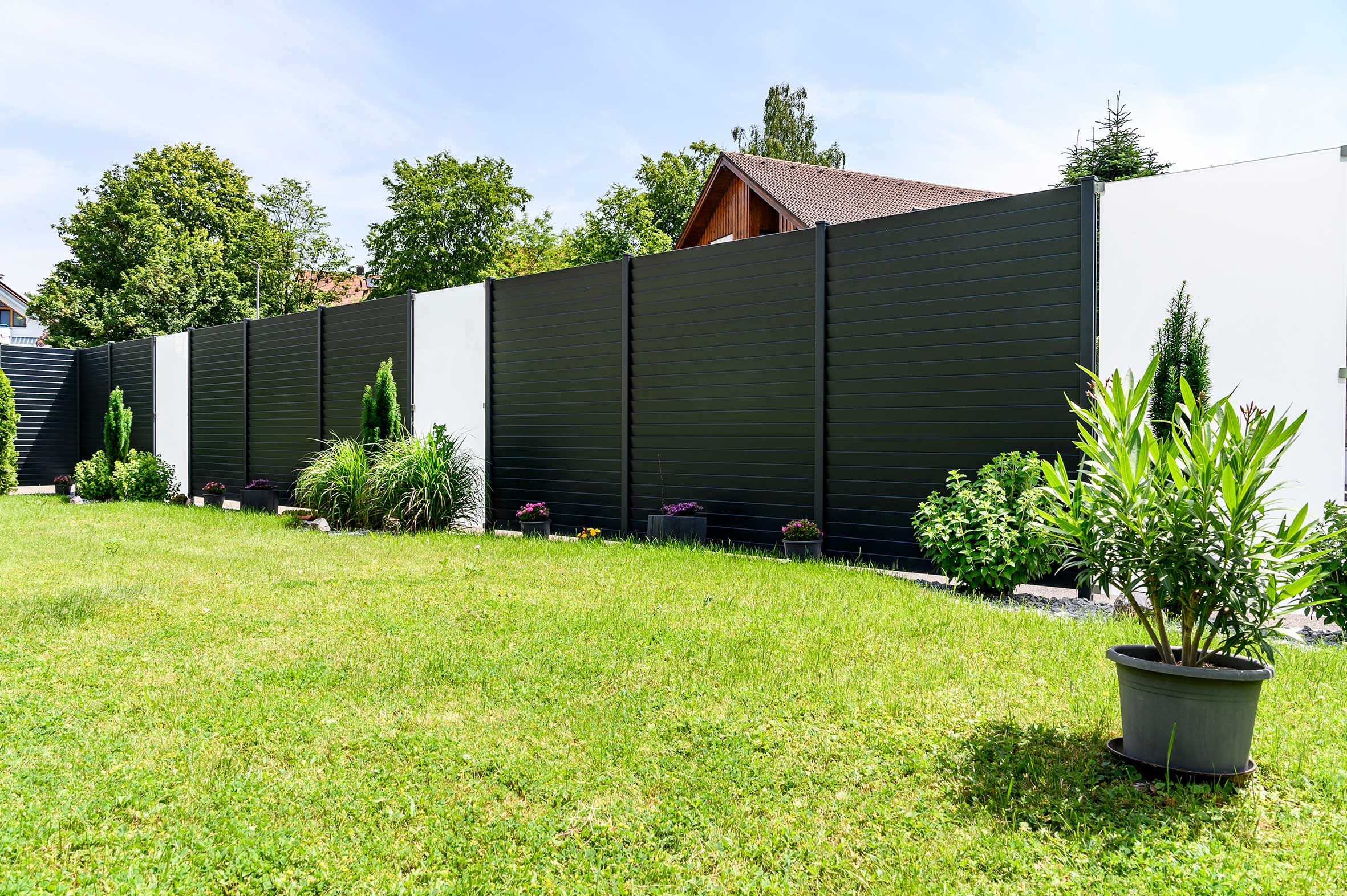 Do you have any questions about the VALU slatted privacy screen made of aluminium – or would you like individual advice? We are happy to help. to the design configurator