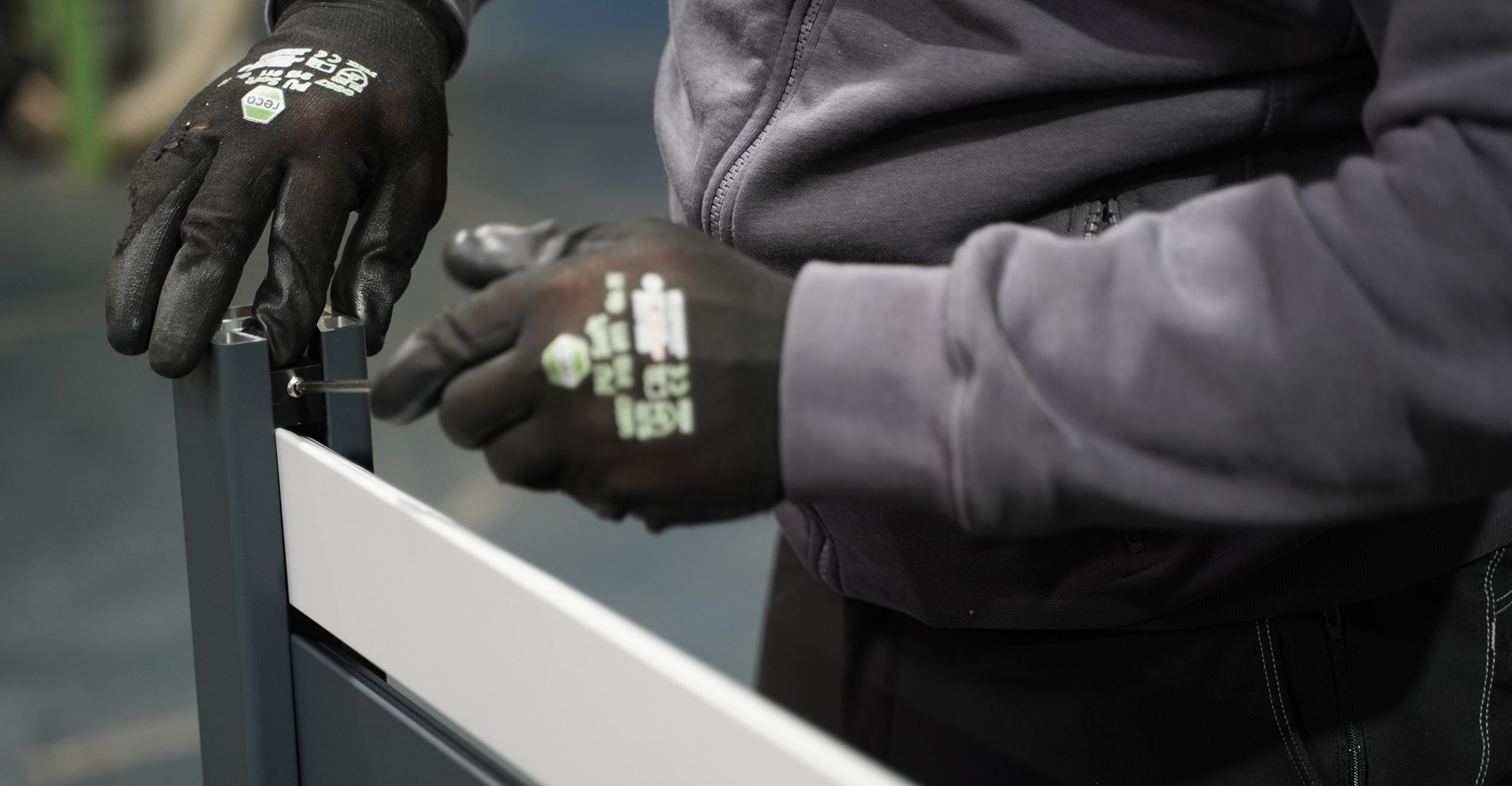 Clever structure, smartly implemented
thanks to simple assembly instructions!
Insert, screw, done:
Build garden fence & privacy fence yourself.
Our modular system for fences, privacy screens and garden gates is not only popular because of its visual advantages. The ease of installation also plays an important role for many home and garden owners as well as for professional fence and horticulturists. After all, VALU saves valuable time when setting up privacy fences and gates. The steps are so simple and well explained that you can do them even as a layman with a little manual skill.
Basically, everything is self-explanatory and uncomplicated: The basis of every VALU construction are the VALU system profiles as posts or statically load-bearing construction elements. Once you have anchored them in the ground in no time at all, the rest of the assembly is also child's play. When planning your privacy screen or fence via the online configurator, you can add the necessary materials to your shopping cart, and the transparent assembly instructions will of course be included.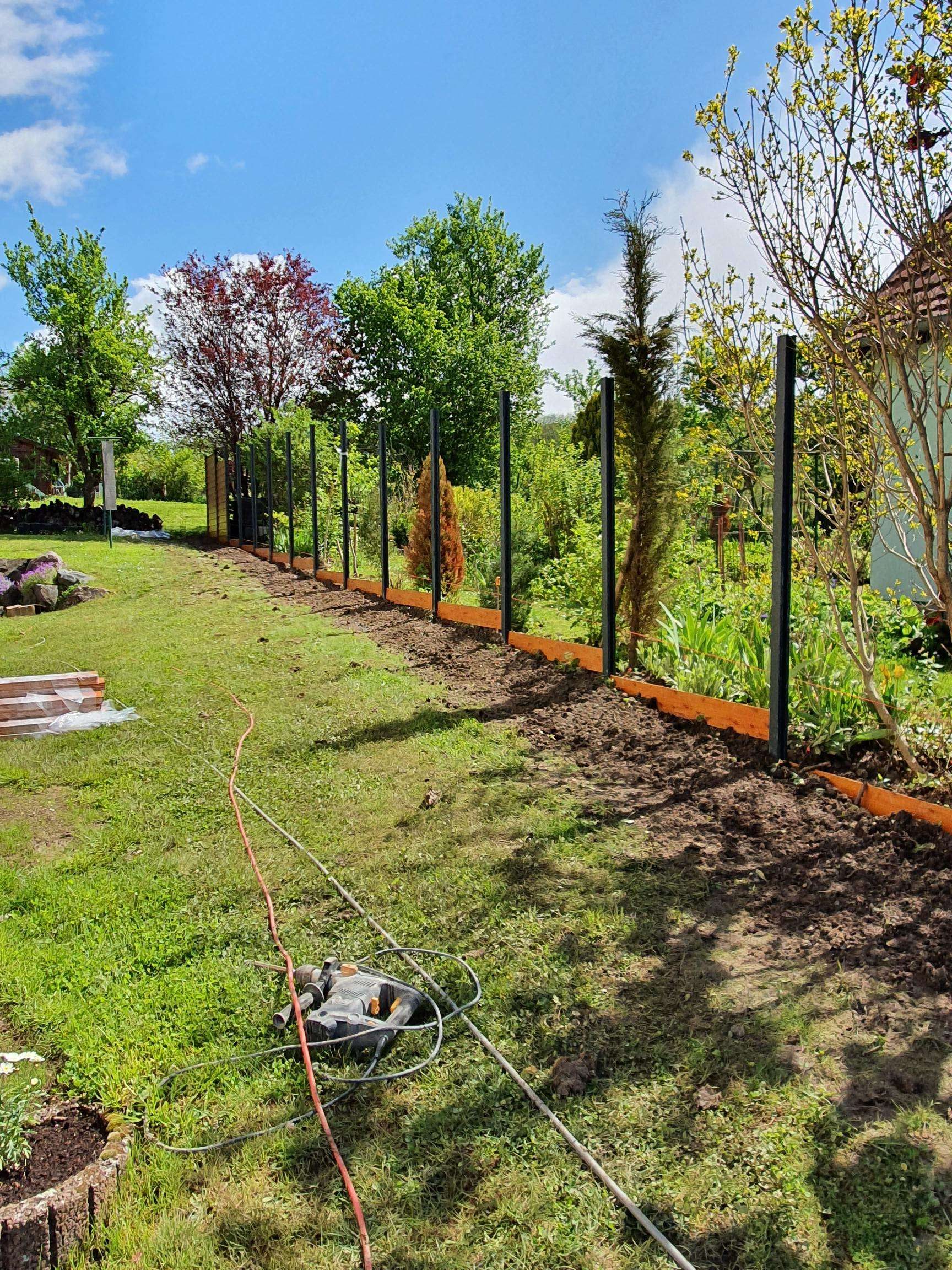 "Wir wollen es Metall-, Garten- und Zaunbauern einfach machen. Darum haben wir ein modulares Zaunsystem entwickelt, das seine Stärken auch in der einfachen Montage ausspielt." Jan Krämer, Geschäftsführer VALU GmbH
Excerpt from our assembly instructions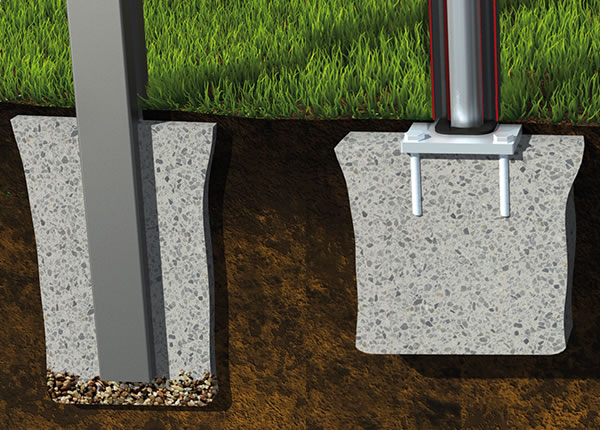 Step 1
insert posts
Simply set the fence post in concrete or screw it on at the desired location.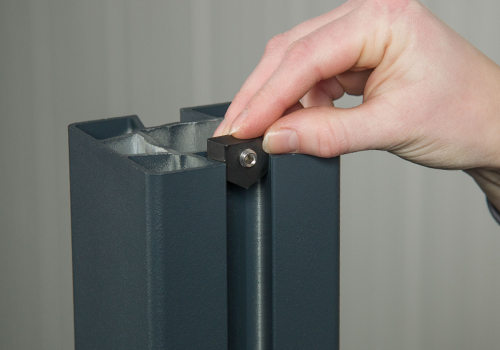 step 2
Screw in the sliding block
Then insert the first sliding block (support sliding block) into the groove and screw it on. Important: The straight surface points upwards!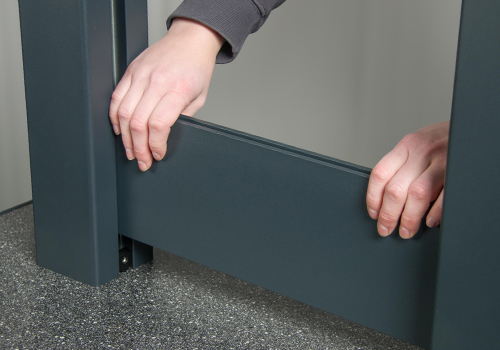 step 3
Insert filling profile
Insert the first filling profile between the two posts and align them horizontally.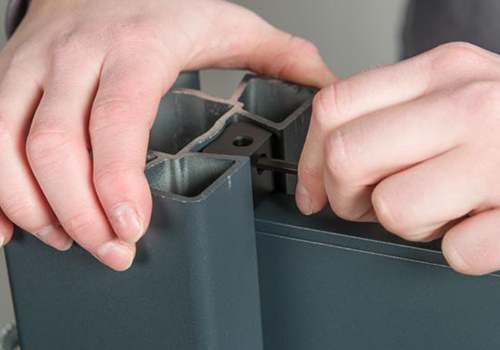 step 4
Fix filling
To fix the panels, a slot nut is used and screwed against the post slot and panel.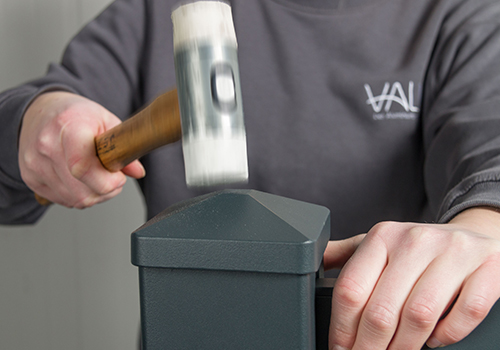 step 5
Put the lid on and you're done
Finally, the cover is fixed to the post by tapping it lightly with a rubber mallet. Complete!
Do you have questions about the easy installation of a VALU aluminum fence, garden gate or privacy screen? We are happy to help.
Contact us!
Installation of privacy screen & fence:
Simple, fast and flexible.
The following "exploded view" illustrates the VALU assembly principle for aluminum fences and privacy protection solutions. At the same time, you remain flexible in the question of whether you choose VALU filling profiles (see No. 4) made of aluminum or of another material such as glass, wood or WPC. Of course, you can get the accessories you need depending on the choice of material from us, so that the assembly is also quick and easy with your desired material.
Good to know: We also offer you for anchoring in the ground
Various solutions, which can either be screwed onto the substrate or concreted into the ground for more stability. This is another reason why more and more people are opting for easy installation with VALU system profiles. Give it a try – and use our fence configurator directly for planning.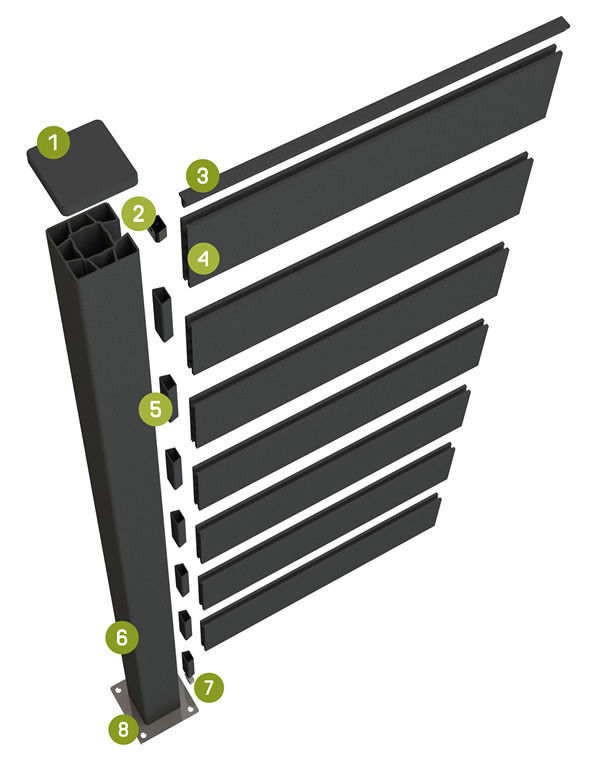 end cap
chip nut
T-end profile
Filling profile 140 x 20 mm
Spacer made of slot filling profile
System profile p90-1 / entry items
Support stone M8
ground connection
Assembly door system / garden gate:
VALU makes it easy for you.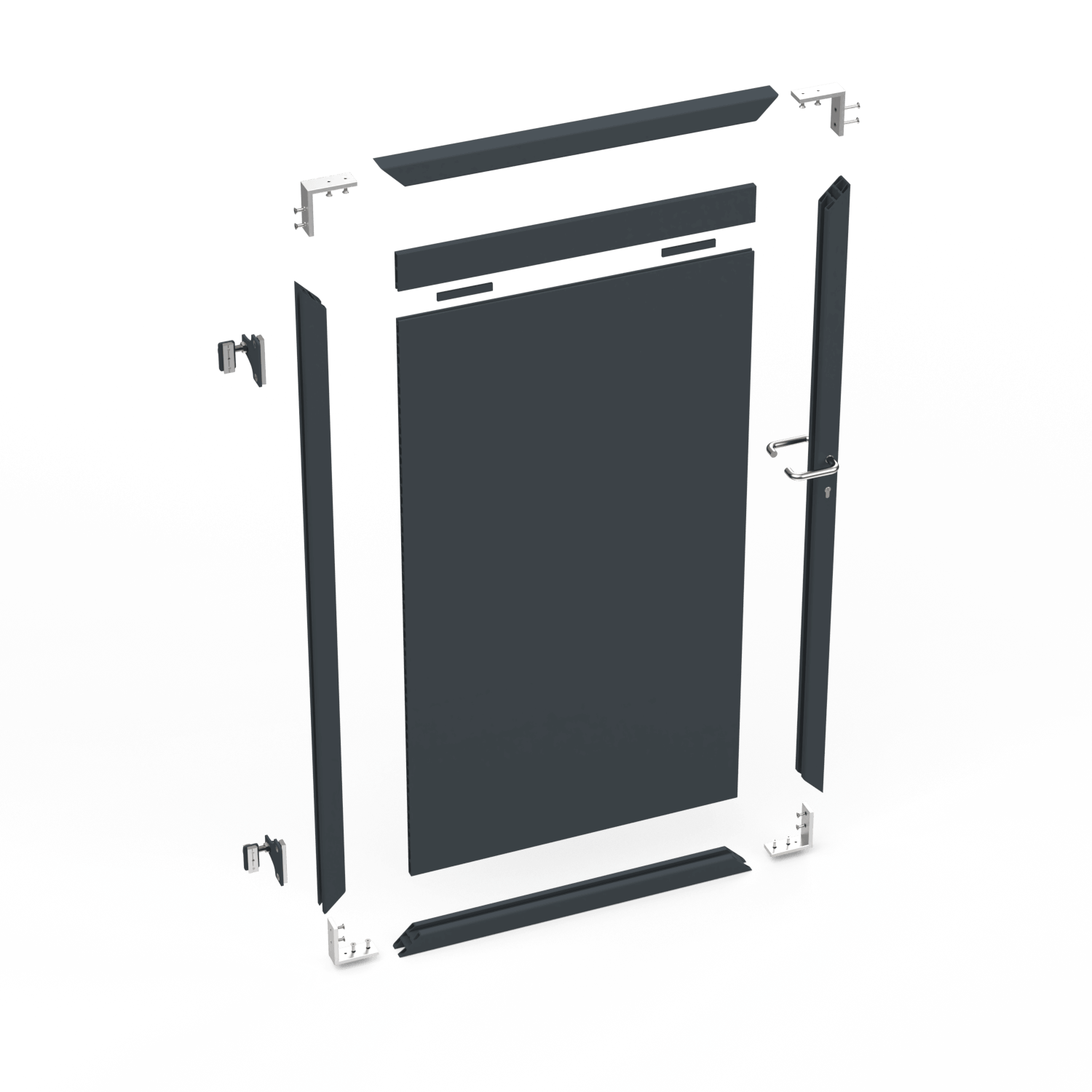 Door profile above/below
Door profile lock side
Door profile hinge side
Door angle & door handle
lock box
Strike plate/stop
hinges
Store
door panel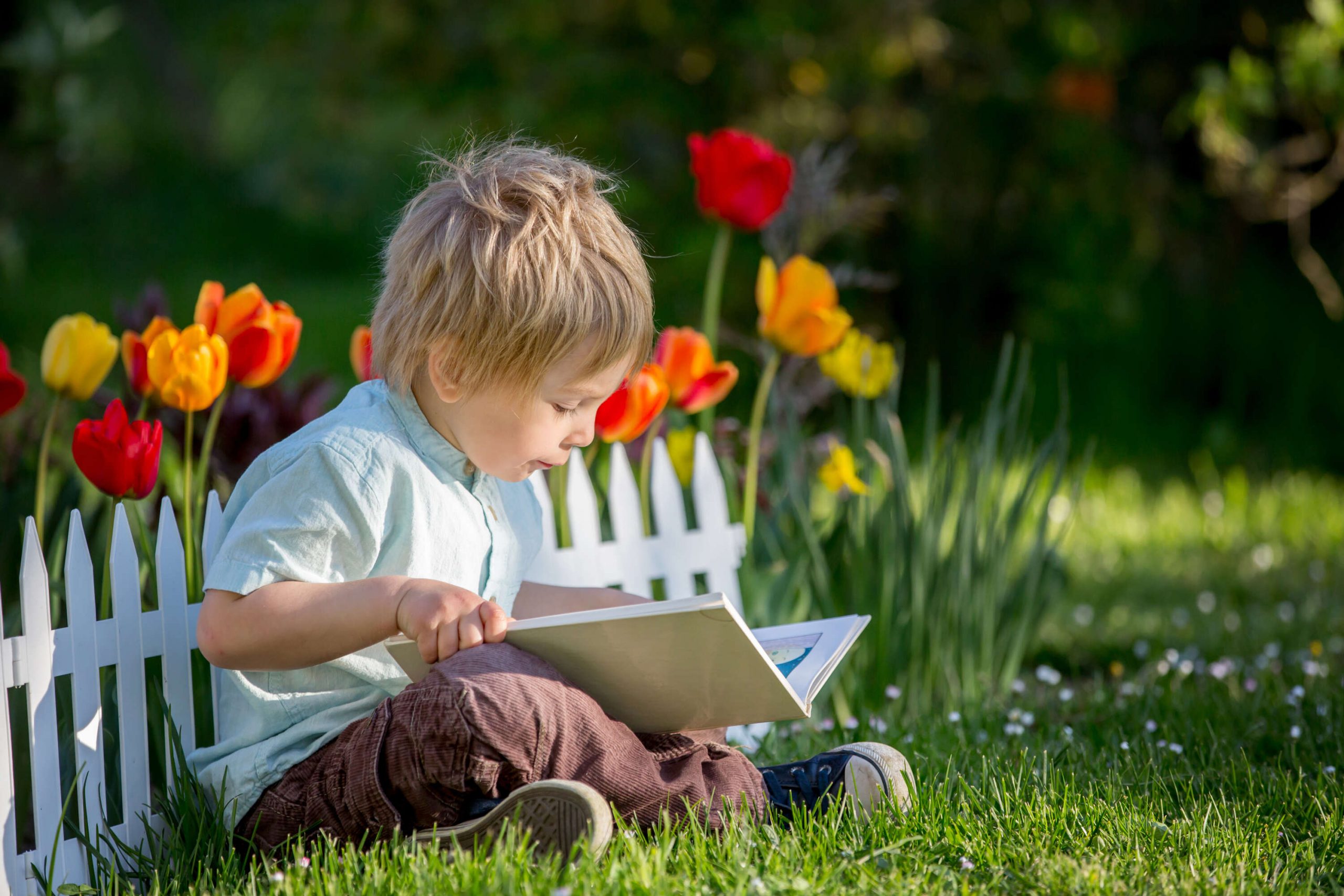 Very easy system technology - your project made of aluminum or your desired material! to the configurator
The VALU system technology offers you a unique modular principle with which you can realize your individual project - and that very easily in the convenient "click system".
Systematic fence and privacy protection:
Flexibility in the smart VALU modular principle.
The VALU aluminium system profile combines long-standing design principles in an innovative way to create new possibilities. Our system fillings are optimally matched to the VALU system and can be easily attached to the system profiles (posts) - all in the convenient "click system" without much effort.